2016-2018 ROLE: Design-Researcher
Design Research in a Biology Lab
Open-ended design research to identify existing pain points and future areas of opportunity in the Organs-on-Chips space, conducted while at Emulate, a startup commercializing the Organs-on-Chips technology.

---
Contextual Inquiry
(Individual) Design research activities to build up foundational knowledge of the Organs-on-Chips technology and ecosystem.



Access to a fully functional lab within the company made contextual inquiry and qualitative data gathering convienient.


Research Outputs

The outputs from contextual inquiry were many different diagrams, tables and charts that were synthesized from the qualitative data collected.



Some examples of these digrams include workflow diagrams, process flows, and visual charts of terminology.




Usability Evaluations
(2 Person Team) The goal of this research effort was to evaluate the usability of a potential new product.



We recreated the basic lab bench outside of the lab, using all real tools and replacing biological material with water. One person conducted the interview, while others would take notes and additional pictures. I facilitated half of the sessions.


Research Outputs
The final result was a report filled with videos calling out key takeaways from each usability session. The report ends with reccomendations for product design changes before the product moves to production.


Stakeholder Interviews
(2 Person Team) The purpose of these interviews was to capture internal biologists' pain points and feature requests to inform the next generation product. I led and conducted 10 interviews with the help of an engineer to answer technical questions.

A key part of the interview was a cardsorting activity, where the stakeholder would organize all the features and pain points based on priority.


Research Outputs
Interviews were transcribed and documented in an Airtable research repository, linking problems and solutions together, along with the prioritization.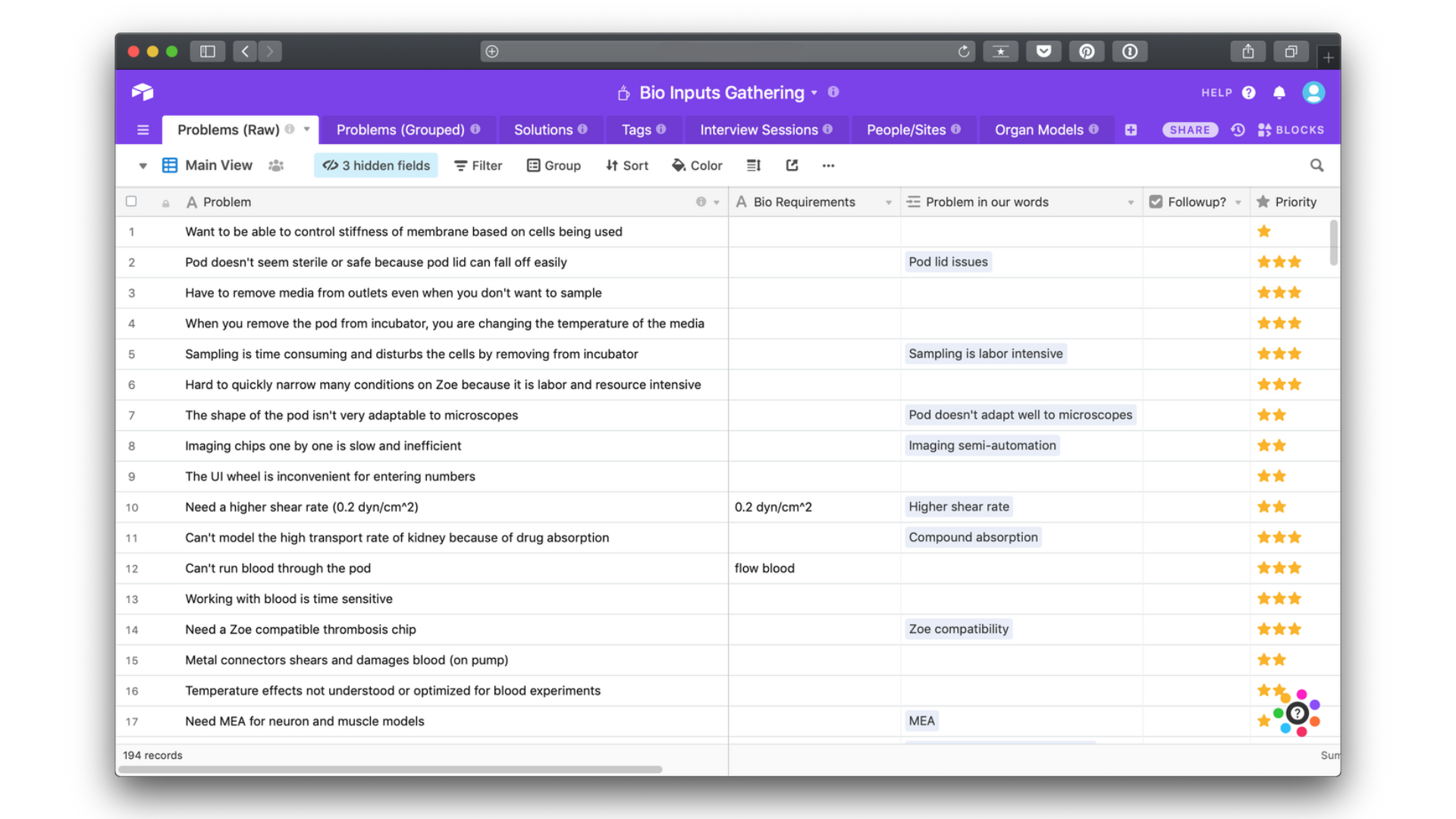 User Interviews
(5 Person Team) These interviews were focused on new users to the system, biologists who were just getting started with our Organs-on-Chips platform.



Observations of training sessions, recording common pain points, confusions, and challenges with onboarding.



Our research through a three month period per user included two full day observations of trainings, observations of all support calls, and conducting a 1 hour exit interview with each user.


Research Outputs
The results from the interviews and observations were written into a report. I contributed to the analysis to a portion of our initial research qiestions. Reccomendations based on our research were attached to the report.